The Randall Museum in San Francisco hosts a large HO-scale model model railroad. Created by the Golden Gate Model Railroad Club starting in 1961, the layout was donated to the Museum in 2015. Since then I have started automatizing trains running on the layout. I am also the model railroad maintainer. This blog describes various updates on the Randall project and I maintain a separate blog for all my electronics not directly related to Randall.
2020-03-15 - Repair for turnout T151
Category
Randall
The turnout T151 has been repaired:
These are Fulgurex slow-motion turnout motors. They are mounted on the layout using an aluminum bracket for support and alignment, with wires to switch the polarity of the frogs. Very neat job done eons ago: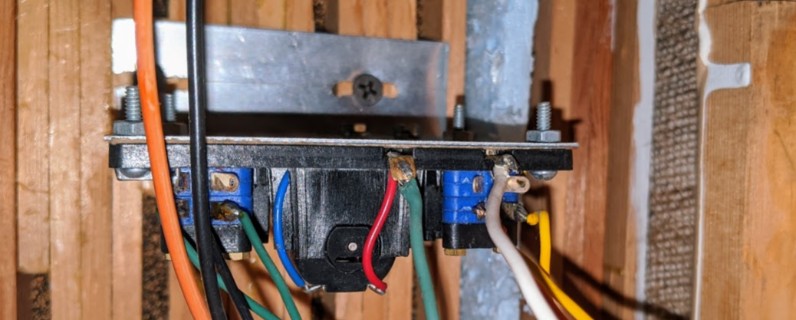 The symptom was the point not moving, even though the Fulgurex motor had power. This one is on the cross-over that goes from the mainline to the Napa / Richmond yard access:

Voltage on the Fulgurex was also dropping from around 12 V to 3~4 V when trying to move. For some reason the motor was likely stuck and/or couldn't move the worm gear.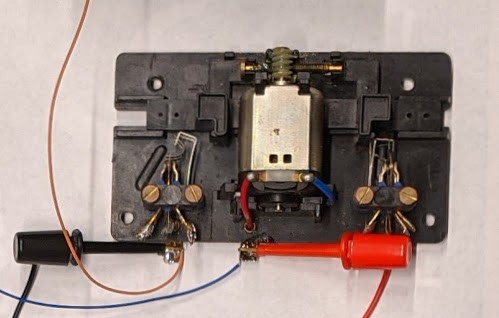 We do have a box full of these old Fulgurex dating from when the mainline was converted to Tortoise. Luckily they were not thrown away. My strategy has simply been to find a good working one to replace the defective one.
It's a "simple: matter of removing the existing one, taking care of noting the connections, finding one that works and verify it on the workbench, then replace it on the layout, rewire it, align it, and of course manage to drop the turnout piano wire in the same spot. How hard can it be? None of these tasks are complicated, yet they are sure painstaking and tedious to do when crouched under the layout at arm length in a barely accessible location.
Overall time to do this fix was about 2~3 hours total, with help from Allen. A significant portion of that time was spent trying to remove the red-painted wood panels installed by the museum wood workshop staff on the layout. I was told the panels would be easy to remove for quick work access. They sure are not! They are overlapping, and are both nailed and screwed in place.
---
Generated on 2021-11-29 by Rig4j 0.1-Exp-666f4a7