The Randall Museum in San Francisco hosts a large HO-scale model model railroad. Created by the Golden Gate Model Railroad Club starting in 1961, the layout was donated to the Museum in 2015. Since then I have started automatizing trains running on the layout. I am also the model railroad maintainer. This blog describes various updates on the Randall project and I maintain a separate blog for all my electronics not directly related to Randall.
2022-05-04 - Randall Repairs: T840 on Branchline
Category
Randall
| | |
| --- | --- |
| Affected | Turnout T840 on Branchline (Smith Flats towards Gravel Pit). |
| Description | Throw switch rod doesn't close. Track out of gauge. |
| Summary Fix | Spike throw switch rod in place. |
Description of Issue
We have been trying to run MoPac #153 on the Branchline in automation. It failed on T840, which is just outside of the canyon tunnel leading to Smith Flats / Bear River section on the Branchline. The engine was running in reverse direction when the car & tender followed the track yet the steam engine went straight through the turnout:

The issue is even more clear from an aerial picture shot:

Close inspection of the turnout shows two interesting things: First, the closure rail does not fully throw all the way. But then when I used the HO track gauge card, it revealed the track is out of gauge and too wide at the switch rod location. It's fine just before and after but it's too wide right there. I can manually flex the stock rail towards the outside, widening the gap with the closure rail even more.

Description of Fix
The fix was simply to spike the throw switch rod in place.
I first disconnected it, since we don't currently use that turnout anyway. And that's probably part of the problem as there's no switch motor underneath to put any pressure on the switch rod; it's just floating there.
I cleaned the inside of the rail with a metallic brush to remove any debris that could have been stuck there.
I added a spike on the outside of the stock rail to prevent it from flexing outwards and hopefully that should keep the track in gauge. Then I placed another spike inside to hold the switch rod in place and close the gap between the closure rail and the stock rail: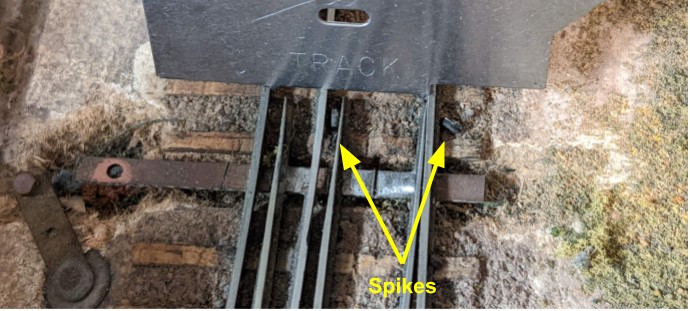 The track looks more in gauge now and the gap has been eliminated.
Fix time: 30 minutes.
---
Generated on 2022-06-27 by Rig4j 0.1-Exp-666f4a7