The Randall Museum in San Francisco hosts a large HO-scale model model railroad. Created by the Golden Gate Model Railroad Club starting in 1961, the layout was donated to the Museum in 2015. Since then I have started automatizing trains running on the layout. I am also the model railroad maintainer. This blog describes various updates on the Randall project and I maintain a separate blog for all my electronics not directly related to Randall.
2022-06-05 - NCE USB Interface for the Workbench JMRI Laptop
Category
Randall
I installed a new NCE USB Interface for the JMRI laptop on the workbench. The last one got wet during the last rainstorm and I wasn't able to revive it. The new one is wrapped in a little plastic wrapper to hopefully prevent it getting taunted a second time.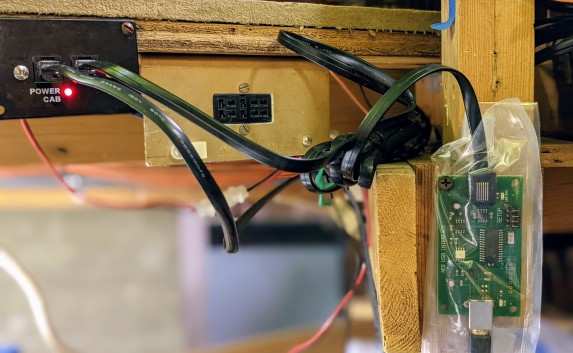 To help against the next rain season, Allen and I reorganized the protective tarp on the ceiling. The arrow highlights the source of the leak from the concrete ceiling. It is a small dripping leak, yet persistent enough to do damage to the wood workbench and all the equipment.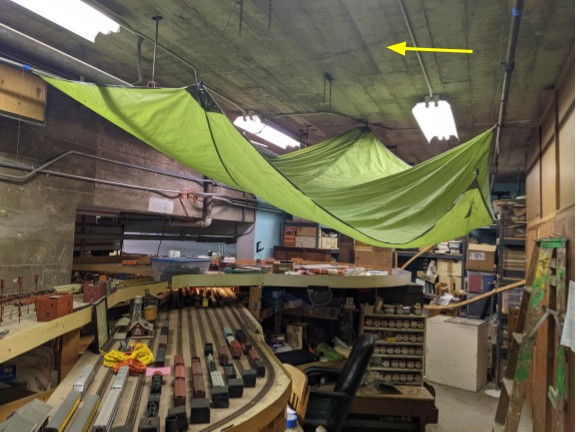 Not pictured here, we have a large bucket at the front that collects dripping water.
And yes the museum direction is well aware of the core issue. That's how we got the tarp to begin with, as that imaginative yet hopefully temporary solution was installed by one of the museum coordinators while we wait for official repairs to happen.
---
Generated on 2023-01-25 by Rig4j 0.1-Exp-666f4a7