The Randall Museum in San Francisco hosts a large HO-scale model model railroad. Created by the Golden Gate Model Railroad Club starting in 1961, the layout was donated to the Museum in 2015. Since then I have started automatizing trains running on the layout. I am also the model railroad maintainer. This blog describes various updates on the Randall project and I maintain a separate blog for all my electronics not directly related to Randall.
2022-08-14 - ATSF 804 to the Rescue on the Branchline
Category
Randall
Back in May, I was very happy to have placed this SP&S Alco RS-3 #4070 on the Branchline. What's not to love about it, it's an RS-3, and the Portland scheme is gorgeous, and it had a matching caboose with directional marker lights.
Eventually last week it just stopped working. But oddly enough, it stopped working just on the Branchline. The same engine works well when directly addressed on the programming track or on the Mainline, but then once on the Branchline, all I get is sound and no movement. That's… puzzling.
Instead I picked up that Santa Fe 804 engine I had been using for track cleaning. It works well. Tested it on the Branchline and it survived the very finicky track. Here's a nice shot where the automation train was reaching the branchline line. Compare with real pictures of the GE C40-8W ATSF #804 vs the EMD SD70ACe UP #8749.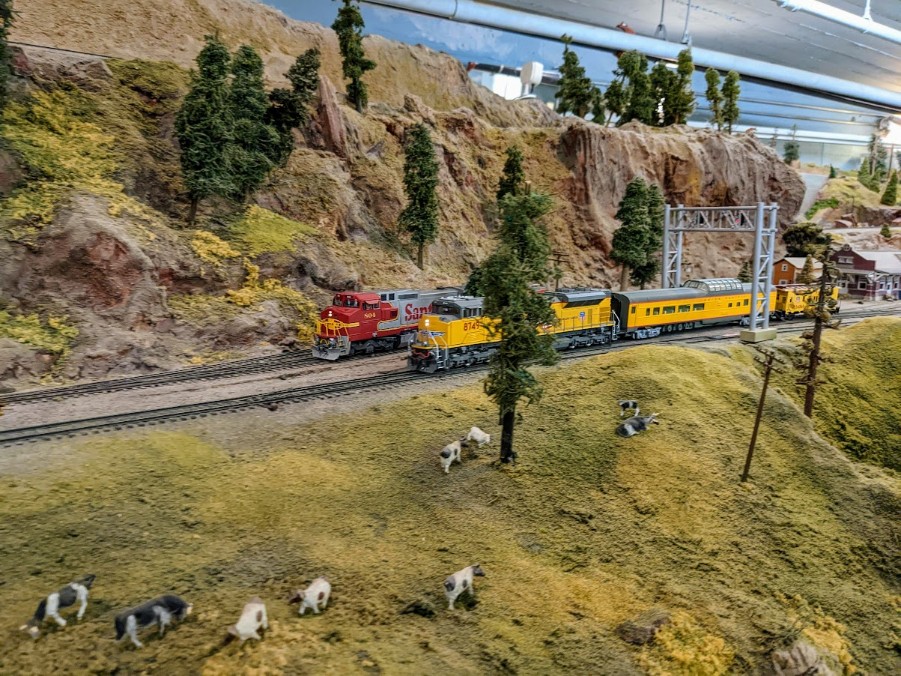 I'm amazed 804 can navigate that track without falling all over itself. It's quite a remarkable model. I love it.
Few engines dwell well on that track. After all, it models a logging railroad, so there's some irony in having that track not be suitable for most mainline engines. Maybe someday I should put a Shay on that. I would love to, because Shays, Climaxes, and Heislers are cool -- seriously though… a good ol' Bachmann Spectrum Shay (discontinued but then there's ebay), even if we need to update the known-to-break gears with NWSL replacement gears… maybe one day once I get to it.
---
Generated on 2022-10-03 by Rig4j 0.1-Exp-666f4a7