The Randall Museum in San Francisco hosts a large HO-scale model model railroad. Created by the Golden Gate Model Railroad Club starting in 1961, the layout was donated to the Museum in 2015. Since then I have started automatizing trains running on the layout. I am also the model railroad maintainer. This blog describes various updates on the Randall project and I maintain a separate blog for all my electronics not directly related to Randall.
2023-08-17 - Randall Repairs: Block B504
Category
Randall
| | |
| --- | --- |
| Affected | Block B504, at the exit of the Stockton Station towards Mainline.. |
| Description | No power on the block. Determined the block toggle is the culprit. |
| Summary Fix | Replace the block toggle. |
Description of Issue
The automated Union Pacific passenger train started stopping on that block, just at the exit of the Stockton Station:

Block power goes through the Stockton Passenger Station Panel:
These block toggles actually have 3 positions:
Left = block is connected to the new dedicated Stockton Station circuit breaker on the DCC.

Center = block is disconnected (no power).

Right = block is connected to the old DCC pickup on the "east approach", a.k.a. the interchange track with the mainline in front of the Stockton Yard.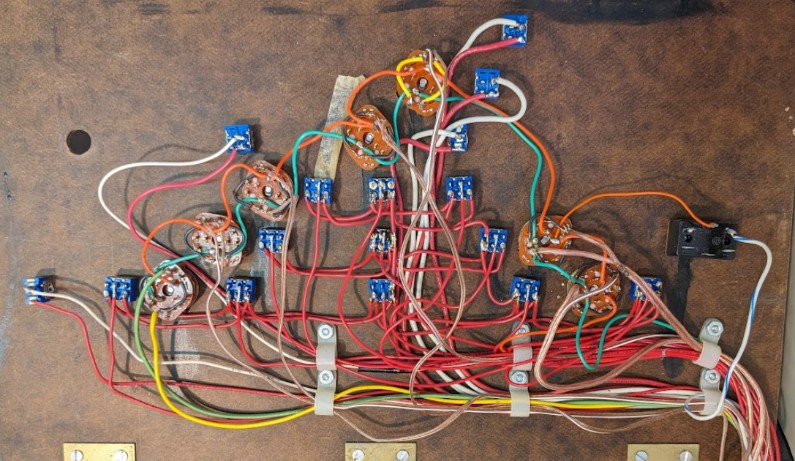 The back of the panel. Image has been mirrored to match the front panel view.
All the wiring connects to a terminal block which is properly annotated, except for a little 2-position terminal block hidden under the layout: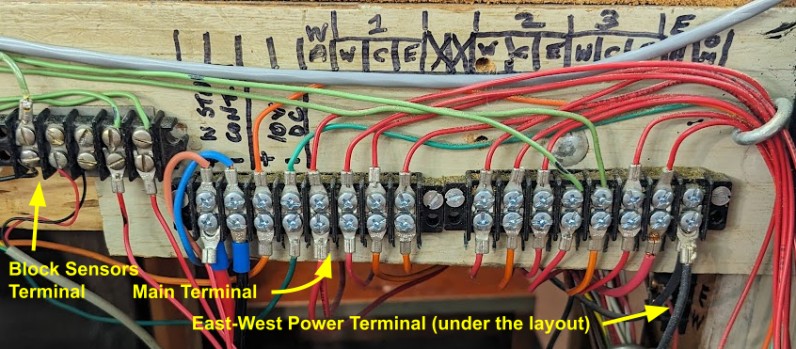 Normally, power is picked up from the left-most position on the main terminal (on that faded orange wire).
The "old DCC" power pickup is the E-W 2-position terminal under the layout.
In this case, a quick continuity check quickly showed we had no continuity between the power feed position on the terminal and the actual rail. Narrowing it down, the block toggle seems "wiggly" and indeed provided a poor electrical continuity, with a high resistance. So basically the toggle had failed.
Description of Fix
The proper fix is going to replace that toggle. I believe we have similar ones in the back.
In between, I got things going by soldering a little wire jumper on the toggle switch. This of course is not a good long term solution as it means we cannot turn this block off!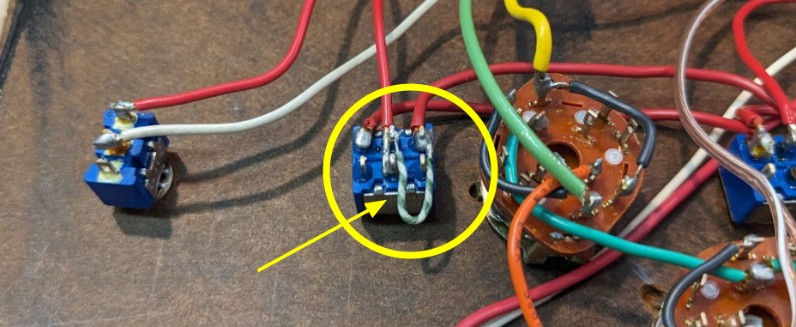 Update 2023-08-20: Orion changed the faulty switch.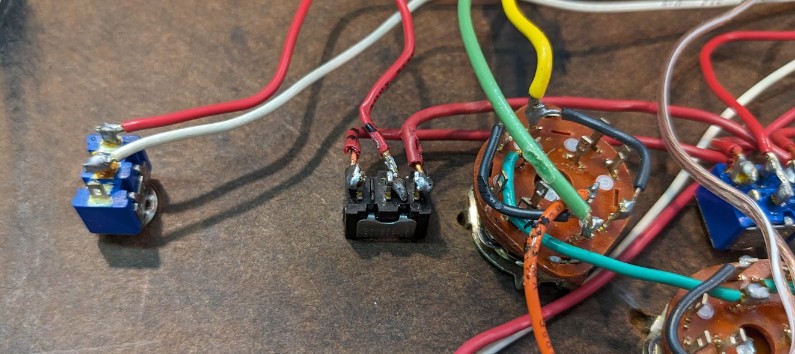 Fix time: 2 hours.
---
Generated on 2023-11-25 by Rig4j 0.1-Exp-e7e2d73