The Randall Museum in San Francisco hosts a large HO-scale model model railroad. Created by the Golden Gate Model Railroad Club starting in 1961, the layout was donated to the Museum in 2015. Since then I have started automatizing trains running on the layout. I am also the model railroad maintainer. This blog describes various updates on the Randall project and I maintain a separate blog for all my electronics not directly related to Randall.
2022-10-08 - Issues with the Walthers Mainline SD70ACe
Category
Randall
Once I was done cleaning the track, I started looking at the new Walthers SD70ACe UP engines I got for the automation. They need a bit of break in before I put them on automation.
Out of the box, I was disappointed to see both engines were lacking the nose headlight & number plates. These were in the box. One of the snowplows was also off. I'll need to glue them both back correctly -- the last thing I want is for a loose part to come off when running in automation.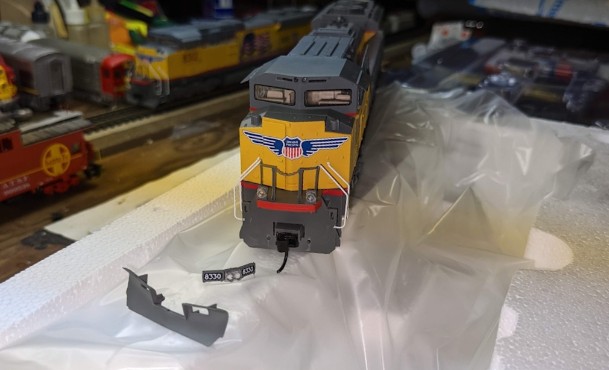 UP 8312 and UP 8330 came with a snowplow and the number plates fallen in the box.
It became quickly clear there were a number of issues with these engines.
I wrote a full description of the Walthers Mainline SD70ACe issues on the other blog.
---
Generated on 2023-12-04 by Rig4j 0.1-Exp-e7e2d73