The Randall Museum in San Francisco hosts a large HO-scale model model railroad. Created by the Golden Gate Model Railroad Club starting in 1961, the layout was donated to the Museum in 2015. Since then I have started automatizing trains running on the layout. I am also the model railroad maintainer. This blog describes various updates on the Randall project and I maintain a separate blog for all my electronics not directly related to Randall.
2020-12-13 - Bridgeport Track Cleaning, Auto-Reverser for Balloon Track
Category
Randall
Bridgeport after some more cleaning and adding a few structures we had laying around: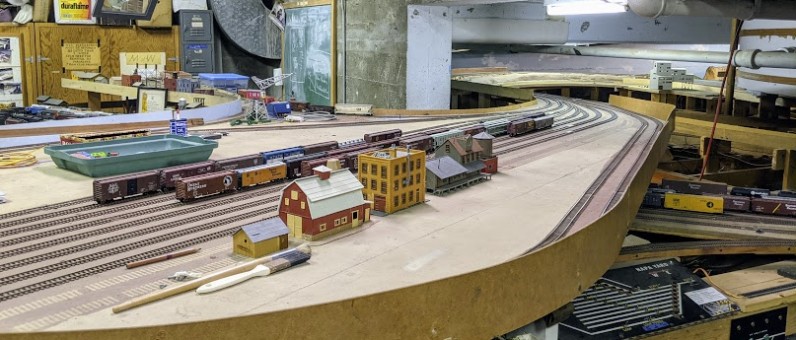 Today I cleaned the inner balloon track of Bridgeport using our cleaning engine 1201:

As indicated yesterday, the strategy is:
Manual scrub the track with the

Woodland Scenics Track Cleaning

tool.

Run

1201

pushing a roller and pulling a pad car.

One drop of ATF on the roller pad does help a lot.

The ATF is combined with manual scrubbing and then running 1201 back and forth several times -- rinse and repeat till the engine goes on smoothly.
What I found in the past is that using too much ATF or Wahl oil just makes the track slippery and attracts more dust in the long run. However one drop of ATF spread out by the roller car creates a smooth film which is visible at first. Then with the scrubber, it does help clean the track till it's shiny enough and we don't notice any ATF on it.
I also installed the auto-reverser on the outer "Loop 1" balloon track:

I'm using a Tam Valley Frog Juicer Auto-reverser; I really like them, they work very nicely.
Configuration note: to use them with the NCE boosters, set both "4 amp" jumpers on.
Eventually I will add a second one for the inner balloon track.
I also realize the track schematic is a tad obsolete on the panel: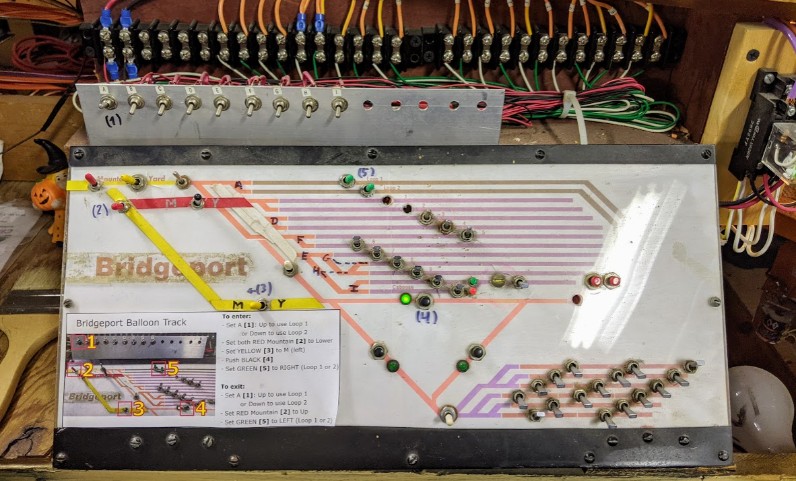 Notably yard tracks 1 and 2 were removed, and the yard ladder for tracks 7-8-9 does not match reality. The two red push buttons to select balloon tracks loop 1 or 2 do not match any actual turnout. Overall the real yard has been simplified.
---
Generated on 2023-01-25 by Rig4j 0.1-Exp-666f4a7